Julian Venus, Business Development Director at respected Aquarian Cladding, reflects on this year's enormously successful Offsite Expo, and what he learned about the state of the sector in 2021.
For me, and everyone who attended from Aquarian Cladding, September's Offsite Expo was a fantastic experience.
It wasn't just an extremely valuable opportunity to meet thousands of people from right across our sector, but also to take the temperature of the industry, and feel part of a thriving, forward-looking community.
Thanks to Offsite Connect, I was able to have some excellent conversations with a number of leading housebuilders, and learn about their aims, concerns and frustrations first-hand.
Some topics came up again and again – but by far the most common was the huge difficulties companies are facing simply trying to build enough houses.
I spoke to several businesses who desperately want to build more, but just don't know how they can do it using conventional methods. There's a growing sense that now's the time for the sector to fully embrace MMC.
That was borne out in the extremely enthusiastic response to the market-leading Aquarian Cladding products we brought with us to Coventry, and the diverse range of framing systems brick cladding can benefit, none more so than Light Gauge Steel Frame.
In a sector wracked with materials shortages, and that's struggling to get anywhere near the government's 300,000 a year housebuilding target, solutions like Gebrik were very warmly received.
An innovative insulated brick cladding system manufactured under factory-controlled conditions, Gebrik can reduce deliveries by as much as 75% and cut storage by up to two-thirds compared to traditional brickwork, while coming in at about a quarter of the weight. It's also four to five times quicker to install.
Delegates were also very excited by MechSlip, our mechanically-secured cladding made from natural clay bricks.
Building a house with MechSlip can require half the amount of bricks needed to create a brick façade by using both sides of some soft mud bricks – hugely valuable at a time when many firms are facing 20 week waiting lists. MechSlip enables residential builders to build more houses using their current brick allocation.
Meanwhile, NaturAL-X enables builders to not use their brick allocation at all by using a purpose made slip tile, as does our Terracotta Rainscreen, so with such an extensive product portfolio you can see why we were busy!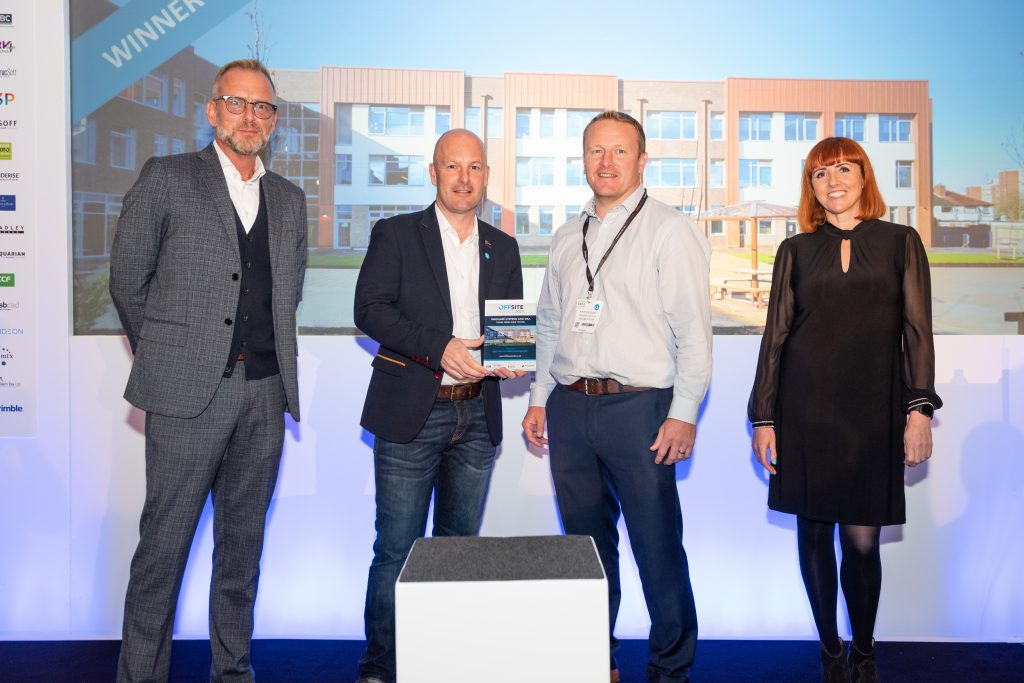 Elsewhere, we were delighted to sponsor the Best Use of Hybrid Tech category at the Offsite Awards, held as part of the two-day Expo. I had the honour of personally announcing the very deserving winners – Innovare and Sika for their outstanding work on Turves Green Girls' School – but all nominations were exemplary in their own right.
All in all, the Offsite Expo was a brilliant experience for us at Aquarian Cladding. We look forward to progressing some of the very promising conversations we had with leading companies during the event, and we're already working on plans to be back again in 2022. Hope to see you there!
Working with architects, contractors, developers and installation specialists, Aquarian's cladding systems have been used on many award-winning buildings across a wide range of sectors.