Aquarian Cladding Systems has been shortlisted for 'Best use of a brick slip cladding system' at the 2021 Façade Awards UK.
The specialist supplier of external brick and terracotta cladding systems has been nominated for its work on Better New Addington Leisure & Community Centre using its Gebrik Insulating Brick Cladding System.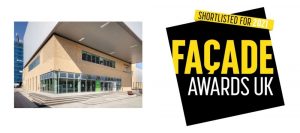 Installed by specialist cladding contractor Express Dry Lining Ltd, the state-of-the-art centre has played a central role in the transformation and regeneration of the western side of Central Parade in New Addington.
The stunning multi-level building features 1126m2 of buff-coloured Gebrik cladding, which was used to create a 3D-textured façade with aesthetic appeal, warmth, and depth, whilst also meeting programme and commercial requirements.
Aquarian produced several supplementary drawings and animations to assist with factory production and site assembly of some of the feature details, with the use of Gebrik significantly contributing to the speed of construction. The reduction in programme led to significant cost benefits.
Paul Richards, Aquarian Cladding's MD, said: "We are absolutely delighted to make the shortlist at this year's Façade Awards for the New Addington Centre project. Having supplied over 400 projects across the UK, the use of Gebrik on the project was truly unique.
"The unusual reveal detail used to frame the main windows has never been attempted before and the stepped brickwork across the entire façade adds a texture to the building that one would not normally expect possible with the use of brick slip panels. The result is stunning and Express Dry Lining did a fantastic job."
Aquarian Cladding Systems will be up against six other projects in the final, and the winners will be announced on Friday, November 19 at The Midland Hotel in Manchester.
For more information on Aquarian Cladding, telephone 0808 223 9080.