We are delighted to announce that Aquarian Cladding Systems has won the Business of the Year (1-10 employees) Award in the Business Leader Awards 2018.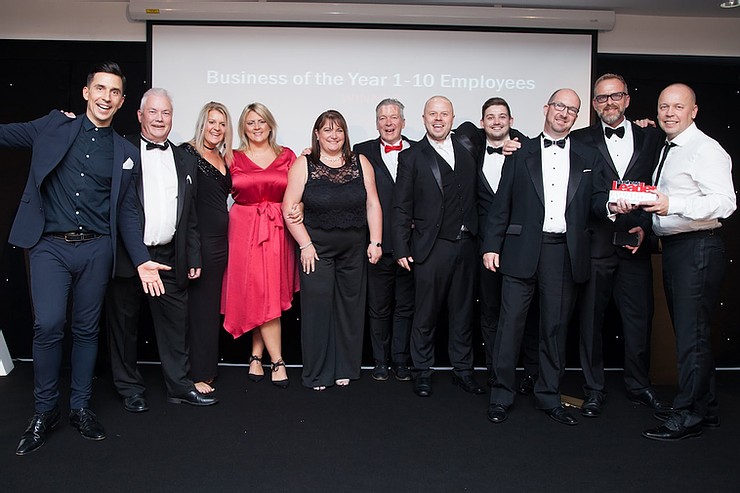 With over 200 award entries (a record number) across the categories, the competition was incredibly high and judged by an independent panel of experts, who spent several weeks assessing entries and visiting businesses.
Against a strong shortlist the judges said that they were 'impressed by Aquarian Cladding's product innovation, commitment to staff development and clear plan for growth.' One judge commented that 'the business had defied the difficult market conditions to create a business that is resilient and on the up.' All of the judges were also impressed by the business' current trading figures to date.
Open to businesses across the South West, the annual awards are the region's biggest and most prestigious business awards. Hosted by award-winning comedian Russell Kane, the event at Ashton Gate in Bristol was attended by over 600 guests that included celebrities, VIPs, business leaders and professionals.
Aquarian's Managing Director Paul Richards is, of course, delighted, 'This award is recognition of a fantastic team ethic. I am proud of our independent, intelligent approach to business where everyone in the team is encouraged and supported to contribute to our success.' He continued "As a distributor of off-site manufactured cladding systems in a post-Brexit, post-Grenfell environment, the market is challenging but the business continues to grow thanks to our smart solutions."
Business Leader Magazine is the UK's leading B2B media platform and includes a national print magazine, daily e-newsletter sent to hundreds of thousands of subscribers, and packed events network. Powered by 70 staff including journalists, digital marketers, video producers and media professionals, Business Leader magazine covers every business sector and its content is aimed at entrepreneurs, business owners and those working in the corporate space.