Aquarian Cladding Systems has been named one of the South West's top 50 fastest growing businesses – and has been shortlisted as a finalist for the award of Construction & Building Services at next month's Fast Growth 50 awards ceremony.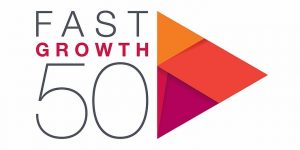 Firmly established in other parts of the UK, this is the first year that the Fast Growth 50 project has come to the South West to recognise and celebrate the fastest growing businesses across the region. The event is run by the region's leading newspapers, with Western Daily Press editor Gavin Thompson saying: "The fast-growing companies of today will become the powerhouses of tomorrow.
These companies are innovating and scaling up, and their success is vital to the prosperity of the region. "So we plan to celebrate them in the South West Fast Growth 50, and by sharing their stories I hope we also help other businesses to emulate their success. Being in the South West Fast Growth 50 will be a badge of honour for those who make it."
Aquarian MD, Paul Richards said: "The South West has always been recognised as a wonderful place to live, work and play. During a period when its economy has thrived and many other good companies have grown, this welcome accolade is a celebration of the team's smart thinking and application.
"We hope it will help gain the attention of future employees who want to work for an inclusive, dynamic and innovative company such as ours."