Aquarian Cladding Systems offered the perfect incentive to a professional musician and filmmaker from Clevedon who cycled 2100km in 21 days to raise vital funds for Breast Cancer Unit Support Trust (BUST).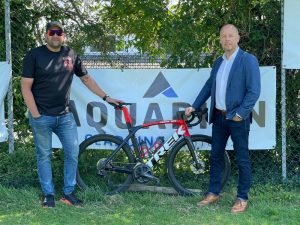 The company, based on Clevedon's Hill Road, pledged to donate 20% of every pound raised by James Hester on his Grand Tour challenge, and it has meant the total has topped £17,000.
James, who also lectures at BIMM Bristol, decided to undergo the challenge after his wife Becky was diagnosed with breast cancer last year.
Between Becky's diagnosis and the start of her chemotherapy sessions, he decided to mirror the Tour de France, and, starting on June 26 rode a stage every day throughout the Tour, replicating the climbs and flats on the same days by riding the Mendips and Brecon Beacons.
It was on stage 11 that Aquarian's MD Paul Richards got in touch with his pledge, after going through a similar experience last year.
Paul explained: "My wife Linda was diagnosed and treated for breast cancer last year and Becky got herself checked around the same time, was sadly also diagnosed, albeit in a different form and therefore treated differently.
"I thought what James was doing was absolutely fantastic so as the year both of our wives were diagnosed was 2020, topping up by 20% and sponsoring Stage 20 had a particular meaning to me."
James said: "Whilst it was tough, uncomfortable and mentally challenging – words like 'gruelling', 'suffering' etc should really be saved for people enduring chemotherapy and radiotherapy. I had the choice to climb off my bike. My aim at the start was to raise £5000 but thanks to everyone's support it soon became obvious I was going to raise much more than that.
When Paul got in touch to make his amazing contribution it really helped power me on. To reach £17,000 is unreal; BUST is a small charity based at Southmead Hospital and they were crucial in helping Becky and Linda with their treatment and support."