Aquarian Cladding Systems has taken the first steps to introduce their brick and terracotta cladding systems into Scotland with the appointment of Grant Softley.
Based in Glasgow, Grant has joined the company as Technical Sales Manager for Scotland, having spent the previous 10 years in sales with Kingspan, Weinerberger and the Brickability Group.
"Most of my experience is from selling bricks for Weinerberger, however my time at Kingspan was invaluable as it gave me an insight into the different route to market for cladding systems" said Grant.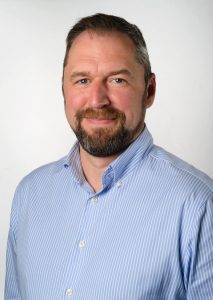 "When I heard Aquarian were looking to expand into Scotland, I spoke to other people in the industry to find out more about them and all the feedback was positive on them and their brick & terracotta cladding systems.
"We spoke and it quickly became apparent that we shared a similar excitement at the opportunities here in Scotland and so we agreed it was the right time to put something together. Our view is that brick cladding doesn't have a presence in Scotland because no one has focussed 100 percent of their time on it – it was only being considered as an afterthought."
Despite starting from scratch and having to promote both a new company and different methods of achieving a brick facade, Grant's delighted with the interest already being shown in Aquarian's external brick cladding systems, including the A1-rated MechSlip and NaturAL-X and the Gebrik Insulating Brick Cladding System.
"We're speaking with architects and specifiers about numerous new projects and, having already priced a few jobs, we are now in regular dialogue with some of Scotland's leading facade contractors who believe in the product. There is no doubt in my mind that to take hold in Scotland it will be driven by specifiers at the design stage," said Grant, who has designed a CPD specifically suited to Scotland and its needs.
"The biggest challenge so far has been that contractors in Scotland think our solutions are untried, untested, and expensive. My colleagues in England tell me it was exactly the same when they first started 14 years ago but they now have the experience of over 400 projects, repeat customers and BBA accreditation to demonstrate the safety and durability of our systems. Of course, the repeat customers are also testament to the benefits of each system in their ability to reduce costs, programme time, deliveries to site, site storage, prelims, etc."
Jazz Rigden, Aquarian's Sales Director, said: "As part of our strategy for growth, we have been looking at establishing a presence for our brick cladding systems in Scotland for some time as we believe many of the benefits of brick cladding systems are a perfect solution to some of the challenges of building in Scotland due to inclement weather, skills shortages and plans for regeneration. Grant's experience and contacts, combined with his ideas and energy, have demonstrated to us that he is the right person to introduce a new way of achieving brick facades in Scotland.
"It's an exciting time for Aquarian and we are confident Grant will help take the company to new heights."
Cladding solutions across the UK
Working with architects, contractors, developers and installation specialists, Aquarian's brick and terracotta cladding systems have been used on many award-winning buildings across a wide range of sectors. For more information call 0808 223 9080, email info@aquariancladding.co.uk or visit www.aquariancladding.co.uk.